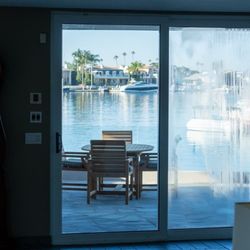 Is your Glass so Foggy you cant see through it or just a broken window? We can help!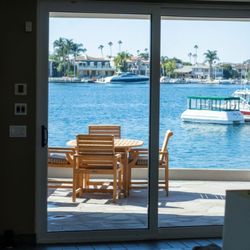 Here I have replaced this Foggy glass panel so they can see it won't block your beautiful view any longer.
Sliding glass door repair
We can save you money by not having to install a new sliding patio door only because the bottom track had corroded away. We replace worn or corroded sliding glass door thresholds, rollers, and handles. We also stop water leaks.

We can't repair every sliding door out there but we try to— because you don't always need a new patio door to make your sliding glass door slide like new. Most of the time we are able to do a complete tune-up by replacing the old rollers, cleaning out the track and installing some nylon anti-rattlers. This process is fast, neat and makes your patio doors slide like new.


With all the new retrofit vinyl replacement sliding glass doors and windows available today, we can still repair or replace many styles of aluminum and vinyl sliding glass door tracks and rollers. There are well over 100 different styles of sliding glass door track thresholds and rollers available to make repairs possible.

Replacing only the bottom track on sliding patio doors is something I have been doing for over 34 years. I was one of the original pioneers of this installation process, starting in 1979 at a very young age working a well-established glass company in Huntington Beach. I have worked in almost every housing complex, for lots of major builders and with most of the property management companies.You don't always need a new Sliding Patio Door Track to make your Sliding Glass door slide like new. Most of the time we are able to do a complete Tune-Up by replacing the old Patio Door rollers, cleaning out the track and installing some nylon anti rattlers making your Sliding Glass Door Slide as good as new!
Many homeowners enjoy having pets but they are a lot of responsibility. You have to feed them and let them outside, with a multitude of other responsibilities, it could be very difficult to make time caring for a pet, but we have a solution to make your life easier: pet doors. They allow your pet the ability to get outside when you aren't available. Pet doors are for the convenience of the owner and the pet. So it only makes sense that there are a variety of pet doors that can be installed in different locations of your home. No matter where you want it almost anywhere can have a pet door installed. All of that being said, there are a few things you'll need to know before getting a pet door. This article will help you understand everything you need to know about pet doors. Source: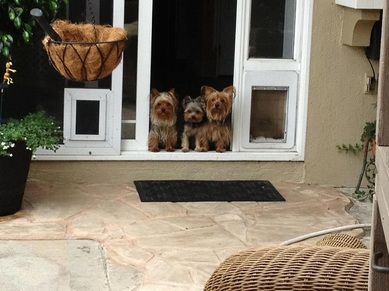 Happy Puppies who enjoy their Pet Doors.
Liberty, Bailey & Hudson
My Babies
New Vinyl windows and doors
Retrofit vinyl windows and doors help reduce outside noise, save energy and make your home come alive! They now come in several different colors, unlike your older aluminum sliding windows and doors. Vinyl is also quieter and much easier to clean and really makes a big difference. We use two different manufactures, AMSCO and Milgard, both are well established companies and have been in business for over 50 years.


We proudly install new mirrored, closet doors it or we can replace closet door track and rollers.
We install both swinging and sliding screen doors. Both types come in several different sizes, styles and colors. Available colors are White, Aluminum, Bronze, Tan and Almond.

Popular styles of swinging screen doors include the Santa Fe, Vista and Cape Cod. These screen doors can also be installed with pet doors and different types of screening material. Materials include several different shade styles, pet resistant materials and regular fiberglass screen material.

Our sliding extruded screen doors come in the same variety of colors and materials. We carry two different style frames, which are both extruded aluminum. Our most popular is the 1 3/4-style frame. The second most popular is our strongest door, the century style frame. Both using our steel ball bearing rollers (no plastic). We also have Stainless Steel hardware kits for those who live close to the ocean.